Illuminerdi's own Jezzer got a Darkhawk exclusive on proposed plans for the hero to be in a guardians of the galaxy film.
James Gunn, renowned director of films such as Great, the suicide squad, and Marvel guardians of the galaxy Volume 1, 2nd volumeand the next Volume 3, has a penchant for taking lesser-known characters in widely told comic book history and highlighting them. He did it with the Guardians, still with The Suicide Squad, and went even further with Peacemaker. Characters that are basically lost to the publication's history are now household names. And it looks like he planned to do it with another character from the Marvel Universe, the shadowy avian android, Darkhawk.
James Gunn almost used Darkhawk in Guardians of the galaxy 2nd volume
Last night, Illuminerdi's own Jezzer tweeted James Gunn with the suggestion for the famed director to use the Darkhawk character as inspiration for his next project. Darkhawk, also known as Chris Powell, first appeared in Black Hawk #1 in March 1991. The character was created by writer Tom DeFalco and artist Mike Manley. Darkhawk has been part of many Marvel teams such as the Loners, West Coast Avengers, New Warriors, Secret Defenders, Project Pegasus, and The Brotherhood of Raptors. Darkhawk's origin is tied to null space, which would allow for some very out-of-this-world stories, in which Gunn is exceptional.
RELATED: VIDEO: Everything We Know About Guardians of the Galaxy Vol. 3!
Shortly after Jezzer's pious tweet was posted, one of his followers, ComicBook.com's Matt Aguilar, backed up his suggestion, to which James Gunn himself responded. Mr. Gunn let them know that he originally planned to use Darkhawk in guardians of the galaxy (I have G) 2nd volume. You may see cropped images that hide the source tweet circulating. You can see the thread in which James Gunn and Jezzer's follower respond to him below.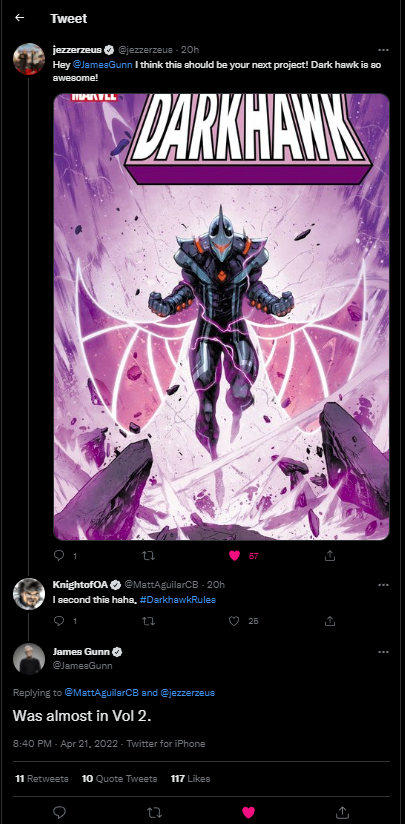 RELATED: Watch Disney World's New Guardians of the Galaxy: Cosmic Rewind Ride Trailer
Speculation about Darkhawk concluding Gunn's sequel to the motley family of misfit space adventurers has long been speculated ever since a Darkhawk Marvel Legend figure was included in the Got G Volume 2 Build-a-Figure wave of Titus. But the title of the comic on Darkhawk's packaging compared to the GotG 2nd volume the title on Drax's packaging gave it away. Then of course the movie came out and it was official that Darkhawk wasn't in GotG 2nd volume. But with this new information, the speculation and focus on the character is high. Pictures of the toys are below. here is a link to JayShockBlast also responding to initial speculation.
What's somewhat interesting is that now fans are speculating about Darkhawk's inclusion in James Gunn's third film in the Guardians franchise. However, the fact that he's talking about Darkhawk doesn't bode well for the character's inclusion. Or maybe it's a double bluff? There is also the Guardians of the Galaxy Holiday Special to consider, which could easily include just about anyone. So The Powell could still appear in a Guardians project. Sadly, we have no news either way, just that Falconer was slated for Guardians of the Galaxy Volume 2.
We'll just have to wait and see when the Guardians of the Galaxy Holiday Special Released in December of this year, or when guardians of the galaxy Volume 3 released in May 2023.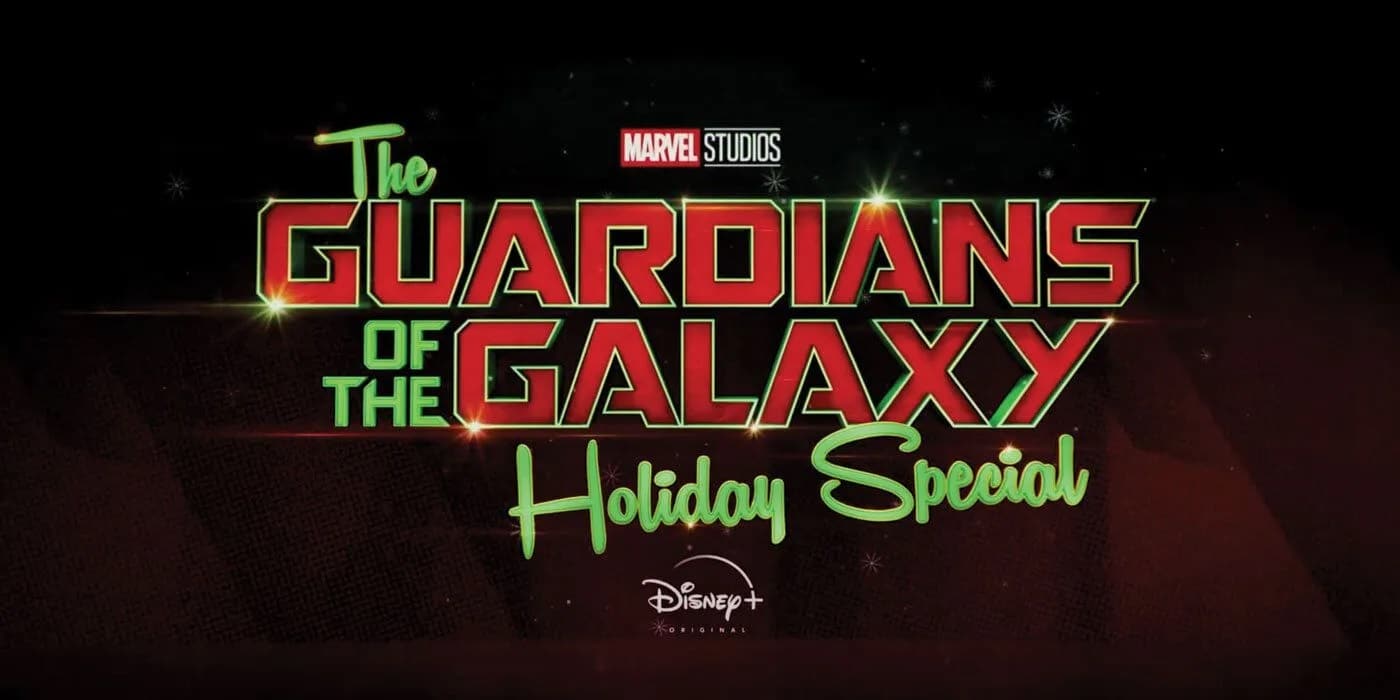 What do you think are the chances of James Gunn using Darkhawk in an upcoming guardians of the galaxy project? Has a director ever replied to one of your tweets? Who do you think James Gunn will make a next film about? Let us know what you think in the comments below and be sure to follow. The Illuminati and Jezzer on Twitter.
Source: Jezzer's Twitter feed
KEEP READING: Thor: Love and Thunder Funko Pops Releases Trailer
Related